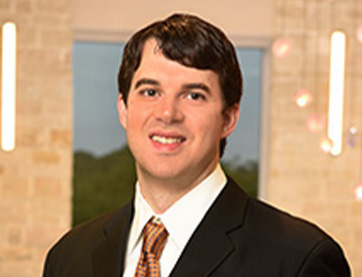 Alan Muns,
Back and Neck
Neurosurgery
Spinal and Peripheral Nerve
Spine
2737 S. Broadway, Tyler Texas 75701
903-592-6000
Alan Muns,
Baylor Scott & White Texas Spine & Joint Hospital
Bio
Dr. Alan Muns is a neurosurgeon with Precision Spine Care. He joins the Precision spine team after completing a fellowship in Complex and Reconstructive Spine at University of Texas – Houston / FOARR (Foundation for Orthopedic, Athletic and Reconstructive Research).
Dr. Muns completed his B.S. in Biology at Abilene Christian University. He next earned his medical degree at the Texas Tech University School of Medicine. Dr. Muns completed a surgical internship at University of Texas – Southwestern before completing his neurosurgical residency at University Texas Medical Branch. Dr. Muns completed specialized rotations in pediatric neurosurgery and deep brain stimulation and functional neurosurgery.
Dr. Muns has completed research in the areas of traumatic brain injury and cerebrovascular. He has professional interest in Reconstructive Spine including Adult and Pediatric deformity correction, Neurosurgical Oncology including Cranial and Spinal en bloc resection and cranial and spinal endoscopic access.
Dr. Muns is a member of the American Association Neurological Surgeons, Congress Neurological Surgeons, Texas Association Neurological Surgeons and the North American Spine Society.