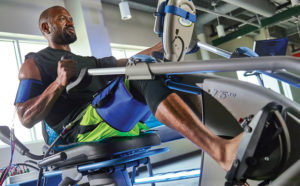 Every person has unique fitness goals. We're here to help you achieve yours.
How can sports medicine improve fitness?
Regular gyms and health clubs typically offer commercial equipment and limited support services. Whether you're interested in a group fitness class or a workout plan with a personal trainer for strength training, at our premiere sports medicine facility, you'll get the guidance and consultation needed for success.
Small group workout classes focused on safely and effectively achieving your goals
Certified personal trainers
Specialized workout equipment
Yoga classes for all levels
Safe workout plans for spine patients