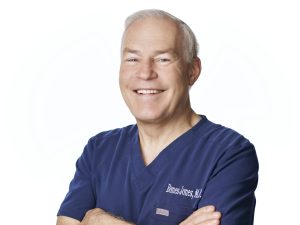 L. Matthew Jones, M.D.
Arthroscopic Surgery
Knee
Orthopedic Surgery
Shoulder
Sports Medicine
3414 Golden Road, Tyler, TX 75701
L. Matthew Jones, M.D.
Azalea Orthopedics
Bio
L. Matthew Jones, M.D. specializes in orthopedic surgery with an emphasis on sports medicine and arthroscopic surgery. He is board certified, American Board of Orthopedic Surgery. His interests include knee & shoulder arthroscopic surgery knee surgery: ACL & PCL reconstruction, meniscal repairs, total knee replacements, shoulder surgery: reconstruction, rotator cuff repairs, sports medicine for all ages and fracture treatment.
"I am very thankful for the privilege of caring for people with all types of bone and joint injuries. Former President George W. Bush has nicknamed me Bones Jones. I have a special interest in helping competitive and recreational athletes return to their previous level of performance. Also, I enjoy giving recommendations that decrease the incidence of injuries."
Degrees and Education
Dr. Jones received his medical degree (M.D.) in 1984 from Texas Tech University, Health Science Center School of Medicine. He obtained his undergraduate degree at Texas Tech University, Lubbock, Texas in 1980. Jones interned in Orthopedic Surgery at the University of Mississippi Medical Center from 1984 – 1985. He completed his residency in Orthopedic surgery at the University of Mississippi Medical Center, Jackson, Mississippi from 1985 – 1989. His fellowship in AO was in Bremen Germany in 1987. He had additional training with Dr. Chris Colton at Queen's Medical Center, Nottingham, England in 1987.
Awards and Appointments
L. Matthew Jones, M.D. is a Fellow of the American Academy of Orthopedic Surgeons. He is a member of the Christian Medical Dental Society, the Texas Medical Association and the Smith County Medical Society. He was a Synthes Course Instructor at the State University of New York, Upstate Medical Intramedullary Nailing Hip Fractures, Tyler, Texas in 2006. Jones was a Synthes Residents Course Instructor, Little Rock, Arizona in 2004. He was also a Clinical Assistant Professor in the Department of Orthopedic Surgery at the School of Medicine, Texas Tech University Health Science Center in 1994. His licensure is from the state of Texas.