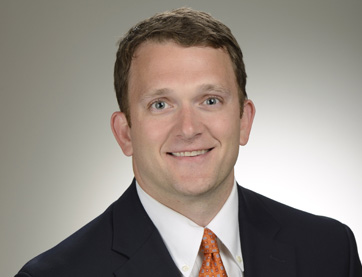 Michael T. Merrick, M.D.,
Back and Neck
Orthopedic Spine Surgery
Orthopedic Surgery
Spine
3414 Golden Road, Tyler, Texas 75701
Michael T. Merrick, M.D.,
Azalea Orthopedics and Sports Medicine
Orthopedic Surgery
Dr. Michael Merrick completed his spinal surgery fellowship with North Leatherman Spine Center in Louisville, Kentucky. He is a graduate of the University of Texas's medical school in Houston and spent his internship and residency years in Grand Rapids, Michigan. Now back in his home state of Texas, Dr. Merrick specializes in surgery of the spine for Azalea Orthopedics.
"My hope is to help patients with disabling back and neck problems get back to living life on their own terms," Merrick said.
"I believe that surgery should always be the last resort when it comes to treating spinal conditions in the neck and back," Merrick explains. "However, if various non-operative treatments have been attempted without improvement, spine surgery may be the right answer. Our field has made tremendous advances in recent years. We have minimally invasive and motion-preserving technology that helps patients return to normal function more quickly."
Degrees and Education
Fellowship
Spine Surgery
Norton Leatherman Spine Center
Louisville, KY
2014-2015
Residency:
Orthopaedic Surgery
Grand Rapids Medical Education Partners
Grand Rapids, MI
2010-2015
Internship:
Surgical Internship
Grand Rapids Medical Education Partners
Grand Rapids, MI
2009-2010
Medical School:
The University of Texas
Houston Medical School
Houston, TX
2005-2009
Undergraduate:
Bachelor of Science
Rice University
Houston, TX
2001-2005
Residency:
Grand Rapids Medical Education Partners – Orthopaedic Surgery Intern of the Year 2010
Mid-America Orthopaedic Association Educational Grant – 2013
OrthoPediatrics SRS Annual Meeting/IMAST Scholarship – 2013
Medical School:
Texas Medical Liability Trust Memorial Scholarship 2009
Spectacular Medical Student Award 2009
College:
Varsity Football Letterman – Rice University 2002 – 2004 (3 years)
1st Team Academic All-Western Athletic Conference 2002 – 2004 (3 years)
Rice University Scholar Athlete Award 2003 – 2004 (2 years)
1st Team Verizon/CoSIDA Academic-All American 2003
Team MVP vs The University of Texas 2003
1st Place in Biochemistry Project: The Chemistry of Lipitor 2003
The Mary Ann Lunsford Student Summer Externship Scholarship in Cardiovascular Medicine 2004
Rice University Study Abroad Scholarship – ICADS Summer Immersion Program, San Jose, Costa Rica 2003
Texas Medical Association
Texas Orthopaedic Association
American Academy of Orthopaedic Surgery, 2009-Present
AO Spine North America, 2012-Present
American Spinal Injury Association, 2012-Present