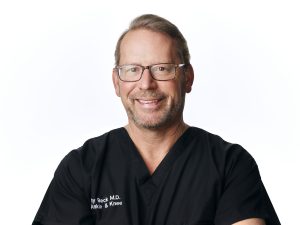 Timothy Beck, M.D
Arthroscopic Surgery
Foot and Ankle
Knee
Orthopedic Surgery
3414 Golden Road, Tyler, TX 75701
Timothy Beck, M.D
Azalea Orthopedics
Bio
Timothy Beck, M.D. is an Orthopedic Surgeon who specializes in foot and ankle surgery. His interests include lower extremities, knee, ankle and bunions as well as foot and ankle reconstructive surgery.
"I am deeply concerned about my patients' ability to resume their regular activities after they have been injured. We take so much for granted…walking, running, climbing stairs. When I am working with a patient, we are both focused on one thing – to restore as much normal function as possible. The good news is that the treatments that are available now are better than ever before – and improving all the time."
Degrees and Education
Dr. Beck received his medical degree (M.D.) in 1990 from the University of Texas Health Science Center, San Antonio, Texas. He obtained his undergraduate degree in science from Texas A&M University, College Station, Texas in 1985 where he majored in biology. Dr. Beck did his residency at the University of Tennessee-Campbell Clinic, Memphis, Tennessee, from 1991 – 1995 in the Department of Orthopedic Surgery. His fellowship was in Foot and Ankle Reconstructive Surgery at the University of Texas, Houston from 1995 – 1996. He has been board certified from the American Board of Orthopedic Surgery since 1998.
Awards and Appointments
Timothy Beck, M.D. has been appointed Partner at the Azalea Orthopedic & Sports Medicine Clinic. Dr. Beck has also been appointed Chairman of the Orthopedic Section of the East Texas Medical Center as well as the President of the Ambulatory Surgery Center of Tyler. His licensure is from the state of Texas, H9787. Dr. Beck was nominated Outstanding Young Men of America when he earned his medical degree. He graduated Cum Laude from his undergraduate university, was on the Dean's List the spring and fall of 1985 and received Distinguished Student Awards from 1982 – 1984.
Papers and Presentations
Timothy Beck, M.D. belongs to the American Academy of Orthopedic Surgeons, the American Orthopedic Foot & Ankle Society, the Texas Medical Association, the Texas Orthopedic Association and the Smith County Medical Society. His research consists of the analysis of Distal Chevron Biplane First Metatarsal and the Osteotomy with Lateral Release for Moderate to Severe Hallux Valgus. Also, Dr. Beck collaborated with two other individuals on, "Plantar Dislocation of the Metatarsophalangeal Joint: Case Report", which was published in 1994.